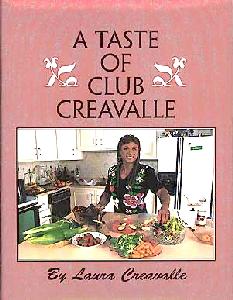 With many people always asking what can you eat besides chicken, and tuna for meals, Laura Creavalle has put together her second cookbook with great tasting, and low fat meals. Every recipe in this book contains the breakdown for calories, carbs, protein and fat.
Laura recommends that you take 1 gram of protein per 1 pound of bodyweight, or if you weight 150 pounds, you need 150 gram of protein per day. Limit your fat intake to also no more than 20% per day of your calorie intake. Also with carbohydrates, you should consume between 1 - 2 grams of carbs per pound of bodyweight. The leaner you are, the more carbs you can eat without gaining fat.
This cookbook provides ideas for Pick Me Ups, Vegetarian Dinners, Dinner's in a Hurry, Menu's from Around the World, and many others. It also provides cooking tips, tips to bake excellent fat-free and low-fat desserts, and some of the best recipes for meals and desserts out there. To contact Laura, or to get the cookbook, write to Club Creavalle, P.O. Box 557, Old Orchard Beach, Maine, 04064.
---
Introduction by Laura Creavalle
---
I decided to put together my second cookbook, after many months of personal debate. I already published one cookbook, The Lite Lifestyle back in 1990 and it continues to sell quite well. The recipes in that book are fat free and sugar free. Many people who I have cooked for or who purchased the book compliment me on the recipes. So why should I put together a new book?
For the last three years, my husband and I have been running a bodybuilding camp in Main. It runs each weekend from May to October. We host four people each weekend. Most of the clientele are couples, and most desire to learn the basics of the core essentials required to build a lean physique; those being training and nutrition. We provide each client with a personal nutrition program. We tech nutrition in an informal 'classroom' type setting. Our nutritional goal is to educate. We have our clientele to be able to leave Maine with the knowledge required to build and customize a diet that works for them. We also spend six to eight hours in the gym over the three day periods, teaching and correcting technique and form.
Collectively, we have over 25 years of training experience. We have trained hundreds of people as well as many top bodybuilders. We feel that someone attending our camp will learn the right way to train. Many people train for years and make absolutely no progress because they simply lack the knowledge and experience required to effectively train with weights. We save them time, and frustration by showing, teaching and demonstrating the smart way to work out.
Well, it has been four years since we started out bodybuilding camp. We have had the pleasure of meeting people from almost every state and we have hosted several foreigners. I would guess we enjoy near a 100% success rate judging by the letters we have received from former clients. All seem to believe their weekend excursion in Main was time well spent. Most surprising is the un-ending comments I receive about the foods I serve. Yes, people write to say thank you, to comment on the thorough instruction, but most sing praises of the great tasting, low fat foods. A great many, also request recipes from meals I served that can not be found in the Lite Lifestyle. I have been sending recipes out for fours years, one by one. My husband has been urging me to put together all of the recipes I serve and put them into a book, so I don't have to mail out the recipes requested. I have finally done it, and I hope you approve.
---