Well - posted on the bulletin boards are all to see - Paul Dillet launches The WBFF! The World Bodybuilding And Fitness Federation. And Paul is the president of this new organization! Then the questions really started to pour in? What is going on? Is Paul not a member of the IFBB anymore? Did he join the PDI? And much more. While we don't have a lot of the questions for you, here is what we know so far, via an email.

Paul Dillet presents The WBFF. The WBFF represents aspiring amateur athletes interested in attaining a higher level of fitness and bodybuilding on a competitive level. We will offer promotional events and professionally run competitions to paying members. The WBFF is going to give athletes / models a venue in which they can compete, and be treated with the upmost professionalism. The key strategic influence is to promote health and fitness in a rapidly growing industry. Our target market is a health and fitness conscious individual who wants to embark on or develop a professional career within the health and fitness industry. Ultimately WBFF seeks to raise the standard of fitness and bodybuilding., and give athletes / models an unlimited opportunity. Our expectations are to promote our company and our athletes to the best of our abilities while becoming internationally known as a reputable and conscientious federation. For more info visit our official website www.wbffshows.com or email us at info@wbffshows.com. Add us to your myspace page at http://www.myspace.com/wb_ff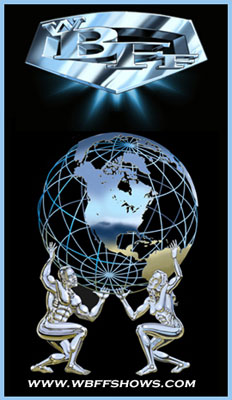 So we asked Paul some questions, about what is going on and here is what we got..
"I am starting an amateur organization in Canada. In Canada, there is a big dispart between the Canadian organization vs. the US organization. When a Canadian turns pros, there is not much for them. My focus is going to be on the Canadian market, for the Canadian athlete. There is a 4 tier system in Candaa, via there is only a 2 tier system in the USA via the NPC, In Canada right now, only one athlete can attain pro status, the overall. I want to make it so that each class winner get a pro card. I disapprove on how things are run in Canada at the moment, and feel that there is a better way,
I have been in the industry for a long time, and I am in the twilight of my career. Once your pro days are over, competitors sometimes leave the industry, but I want to stay within the industry. I still have the love and the passion, and I want to go to the other side of the fence now. Instead of being the star, I want to be the starmaker. I am trying to give something back, I am starting my own organization.
This was nothing to do with the IFBB, it is a great organiation. It made me a star, it brought me lots of money and fame, but I feel there is a need in Canada for another organization. It is always good to give more oppurtinity for competitors to make more money. Jim Manion has always been great to me, he is like a dad to me. But our sport is not growing now. 15 years ago, there were 200 bodybuilders on stage at an amatuer show. Now there is less than half of that. We need to do something, and it shouldnt be looked like we are going against the IFBB federation. We just want to bring more exposure to bodybuilding. Sometimes you just need to leave the nest. I don't need anyones approval to start my own business.
The PDI is not a bad thing, I am not going to rule out the possibility in the future of a pro show, I just feel the need to give the competitors and models more possibilities and oppurtinities out there. We are thinking outside of the box here, get an entertainment company to get involved with this industry. For the Fitness Model Search we are having, we will have celebrity judges, a Hollywood star, a Toronto Rapter player, and more. If we bring these famous judges to the show, then the exposure, magazines, and much more will follow.
Can you tell me who won the Canadian Nationals last year? Most people canít. They just dont get the same attention like the U.S. competitors do, and I want to give them more exposure."