Moe, aka Mohammad El Moussawi, is preparing for the Ironman Pro Show and the Sacramento Pro show in the hopes of showing the judges and fans that Moe is for real this year. All Moe wants is to get a fair look at his physique and be compared with a myriad of bodybuilders.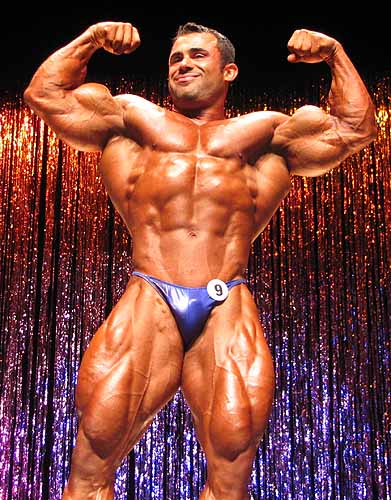 (From the 2006 Ironman Pro finals)
For this years Ironman, I am going to bring a different body and physique on stage. I will be bigger, more dense, more hard and my overall balance will be much better. My aim this year is to beat a lot of these boys that they think they can come into the Ironman with just their name and place well.
Last year, after the San Francisco Pro show, I was quite disappointed and I asked a few judges what I did wrong. The answer was that they wanted more size on me, and so year, more size is what you are going to get.
I am currently residing in Auckland city in beautiful New Zealand, and am training at Les Mills Gym, which in my opinions, is the best gym in town. I am training with a great bodybuilder and an incredible inspiration, Gary Jones, a past Mr. Universe. All I can say about Gary is that he makes me hate him every time we work out, as he is 50 years old, and stronger than most people are 20, and looks way better. Just incredible.
I will be arriving in Los Angeles on the 8th of February, and will be staying with my older brother, who has arranged a nice separate facility for me to train at to concentrate on the shows. As for working with a trainer, I don't think a pro bodybuilder should have one. He knows what to do, and only the lazy pros hires trainers, who are there to push them. A pro should have a good trainer partner who cares about you, and pushes you, and tells you the truth.
This year, I am going to do a routine that fits the new look, so it will be different than last year. I weight 228 pounds on stage, and this year, I plan on competing at 245 pounds. Yes, I will be much heavier, and look great.
I also want to say that I love the sport of bodybuilding . As a man who is involved in my own business, every time I do a show, I have to sacrifice a lot, from training, nutrition, discipline, losing money, and all the other things that goes with it. Every time that I get overlooked, it get discouraging, but my love for the sport keeps me going. And once again, all I want is a fair look on stage.