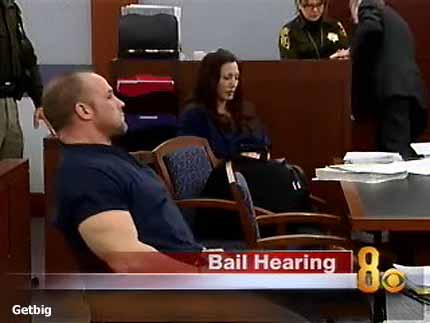 No bail for Craig Titus or Kelly Ryan today, the judge said. The defense team was hoping that coming into this courtroom today, Friday February 10th, that they would come out with bail for the two. It did not happen. While the judge did not completely rule out bail coming up in the next court appearance, on March 29th, it does mean that Craig & Kelly are in jail, perhaps in maximum security, in solitary confinement, for at least another month and a half. And in the courtroom - the victim's mother - Maura James - who flew in from New Jersey. Also in the courtroom - Anthony Gross. . There also was no plea given today at the court either. That will be reserved for another date.
Here, from a friend, is a version of what happened in the court room today.
At 1 o'clock, the hour at which the bail hearing was supposed to commence, Craig and Kelly sat shackled and silent on opposite ends of a small table. There was nobody between them. No lawyers, no detectives, no bailiffs, no judge, no nothing. Moments earlier Kelly had been escorted into Judge Bonaventure's courtroom, wearing the anticipated blue jumpsuit of Clark County Detention Center prisoners, and exhibiting her model's hair, which -- still lambent and bountiful and a bit wavy -- doesn't look like's its been sullied by the rigors of prison life at all; and at the sight of his wife, Craig broke down. Tears fell, and he sobbed. He had arrived first, taken his seat just a short jab away from the prosecutor's table, and remained quiet and ineffable until he saw Kelly, who returned his display of emotion with a look of pure, unadulterated affection. It was the last time the couple would explicitly communicate during the hearing, which spread itself over the next two hours.
After settling some preliminary matters, prosecutor Robert Daskas proposed to the judge that bail, at any price, is just not applicable to the defendants in this case, for not only are they charged with murder (the only offense in Nevada for which a suspect can be held without bail), but they are also high risks for flight, and one of them, Craig, has a very dubious character. All reasons, Daskas said, he would provide evidence for today.
And thus, with his shaky articulation and incessant feet-shuffling, Daskas recapitulated all the evidence that is already well known by diligent followers of the case: Melissa's body torched in the back of Kelly's Jag; videos of Kelly buying lighter fluid and of Craig waiting outside Wal-Mart for her, with Melissa already in the trunk; traces of morphine in Melissa's body at the time of her death; signs on her body, from the coroner's photographs, of partial mummification and strangling.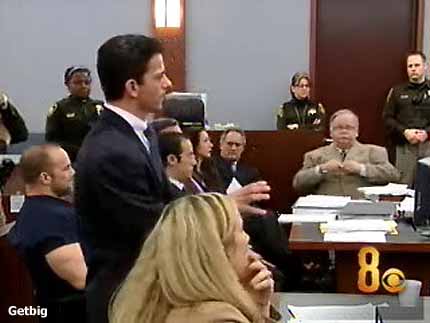 Also, a witness saying that, shortly after the day Melissa was burned, Titus gave him (or her) a gym bag containing a Taser gun, which experts can prove was shot in the Titus-Ryan household six times on December 13, between 2:10 and 2:12 p.m; and culpable statements given to LVMPD and FBI detectives by Titus and Ryan. However; what Daskas did say that was not common knowledge was that the prosecution has ascribed a motive to Titus and Ryan: embezzlement.
Daskas said the couple claims Melissa stole from them, and that in their minds was reason enough to murder her. Though proffered with an inept and infirm delivery, Daskas made a substantial case. That is, he let the evidence--hard and mountainous-speak for itself.
At one point Schonfeld had interjected and reminded the court of the motion he had filed the day before (at 9;30 a.m) to suppress the statements given by Craig and Kelly in Massachusetts, as they were recorded surreptitiously--which is a violation of state law and thus renders them inadmissible evidence in the court of law. Both the judge and Daskas said they never received the motion.
Daskas then described why the state believes Titus and Ryan are serious flight risks. He said that, according to at least five witnesses, Craig verbalized his intentions of fleeing to a country with a non-extradition policy--either Greece or Mexico. He said that Craig and Kelly tried to sell their house(s), and that they did not sleep in their own house again after the cops questioned them on the morning of Dec. 14. He said that the couple stopped using their cell phones, and instead purchased pre-paid phones so that their numbers would not be traced. And, Daskas said, the couple had traded in their truck, roared some 3,000 miles across the country with some $8,000 stashed away, refusing to sleep in motels due to the fear of recognition, and thus any notion that they were just vacationing is altogether "laughable."
"No," he said, "They were trying to escape the country because they knew they were going to be held in connection with the murder of Melissa James."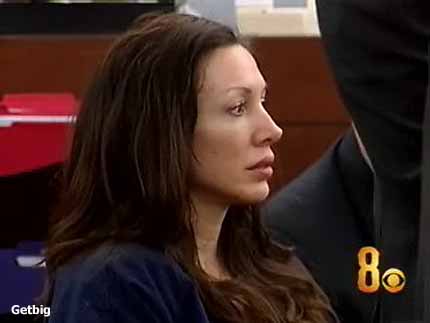 Kelly, who had been watching Daskas speak with the attentive eyes of a schoolchild, let out an audible sigh when he said "murder of Melissa James." And she would continue to sigh, or gulp, or sink into her chair a bit any time "Melissa' came up.
For his last point, Daskas said Titus' character needed to be questioned in this matter. He said Titus -- the man who failed to answer Maura James' frantic phone calls after her daughter did not arrive on the flight for which she had been scheduled, the man who finally called Melissa's mother back the Saturday after the incident and told her it wasn't Melissa's body that had been in the trunk, and the man who went on to tell Maura that her daughter faked her own death to assume a new identity (and, as proof, his friend had actually talked to Melissa since the incident) -- is not worthy of bail.
Tim Pitaro, little humble man with a grandiose and erudite manner of speaking in court, and a reputation for being a zany but efficacious defense attorney, then took the floor to speak on the behalf of his client, Kelly Ryan.
Pitaro gave Judge Bonaventure and the rest of the courtroom a 30-minute lesson on the fundamental principle of bail -- invoking the constitution, the country's forefathers, a hundred precedent cases, and many more reasons why Kelly should be granted a reasonable bail price right then and there. And while he didn't directly refute any of the evidence proffered by Daskas, he did exploit the prosecutor's shortcomings -- and I'm speaking of two in specific: a cause of death has still not been determined, for there has been no autopsy report; and the capriciousness of theories being thrown around.
Nobody knows anything for sure, said Pitaro, a short and rotund old man with a charming accent from back east, so the prosecution is just trying to throw everything out there. It's all just sound and fury.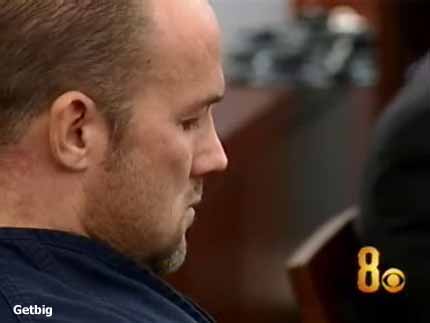 Schonfeld, the sharpest lawyer in the courtroom today, adopted Pitaro's statements, and then tried to convince the judge Craig and Kelly had no intentions of fleeing. He said the hard evidence reflects this. For example: the couple stopped in Massachusetts to get an oil change, which would have been futile if they indeed planned on going to Greece, and just as worthless if they were going to Mexico (for why would they travel 3,000 miles east when they could have just headed a short way south, to Tijuana); at the oil lube station they were described by witnesses as relaxed, as talkative and friendly, and the manager even reported that Craig and he exchanged phone numbers (with Craig saying, 'Whenever you come to Vegas, call me up) and Kelly taught an employee a few dance moves; also at that same oil lube station a marked state trooper was getting work done on his car, but neither Craig nor Kelly appeared worried; and further, Kelly's passport was found in their home in Las Vegas -- not a sign of a person anxious to leave American soil. In addition, Schonfeld mentioned that the couple still had money in their bank accounts, and Craig had written a check to his attorney in Las Vegas for $5,000 the day before -- not signs of people ready to start all over in a new country.
After all of that, the Judge said he needed a recess to think it over. Everyone talked in whispers for the next 20 minutes. Daskas walked to the back seats of the courtroom, from where Maura James had been watching the entire proceedings, sitting directly behind Anthony Gross and his silent family. Pitaro, Schonfeld and Steven Boozang conferred, sometimes with Craig, once on a while with Kelly, but most of the time amongst themselves. Reporters and cameramen gossiped.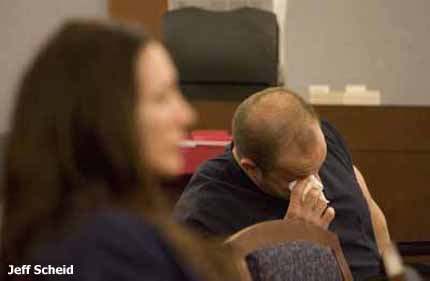 And then, after the bailiff's preamble, Judge Bonaventure returned to his high chair and said: I've taken everything with which I was presented, both orally and in written form, into deep consideration, and I believe I must uphold their current status. They will continue to be held at the Clark County Detention Center without bail.
No one reacted with much expression.
After discussing some logistic matters, Schonfeld told the judge that for some reason unknown to him, Craig was often being held in isolation at CCDC, and that made it very difficult to consult with his client on a regular basis. He then asked the judge to talk with the prison to see if they could discontinue Craig's trips to the hole.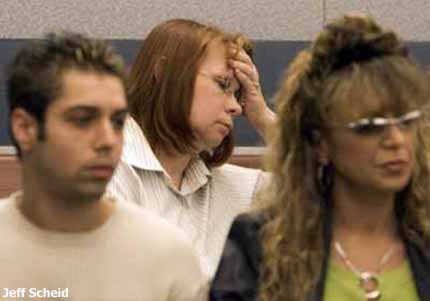 Wow - what an interesting court appearance. Close to two hours long.
Well - the judge, while not granting bail at the moment, left everything status quo - reserving ruling on he bail motion until March 29th, the next court appearance. Regarding the motion of suppressing any statements in the 102 page document given by Craig & Kelly in Boston when they were secretly recorded without their knowledge, that was not heard because neither the judges nor the DA had a copy of the motion, which was filed the day before. Apparently, this motion didn't make it through the red tape of the justice system.
Also, regarding the Taser, while they say that Craig gave a friend the taser gun in a gym bag, and they found remnants of taser shots (called taser dots) at the house, they don't have any evidence yet to say that Melissa was actually tasered, only a theory. As for Craig & Kelly admitting to friends that they used a taser gun on Melissa James (as heard from Las Vegas News 3 via alleged court documents), none of that came out in court (which should have been a huge factor), and many sources are wondering if this is actual. What is true is that Taser International examined the gun and said that it was fired six times on December 13 between 2:10 and 2:12pm.
** Pictures from Channel Eight Las Vegas Video, and Las Vegas Review Journal