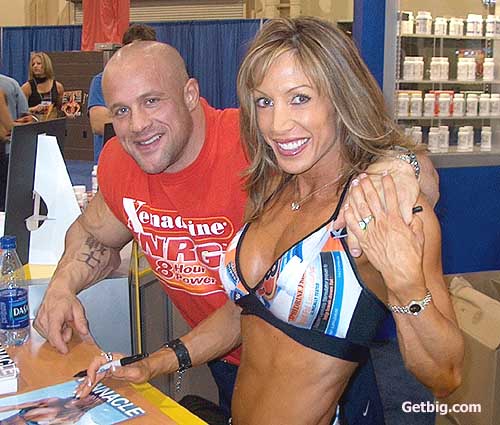 Craig & Kelly from 2004 Olympia Expo
It has been a quiet week for Craig Titus and Kelly Ryan in terms of any meaningful events. I hear that they had a visit from someone who went to see them, but because they are in a maximum security state and also in isolation, the best way that they could talk was via a video teleconference, not see each other face to face. But at least someone talked to them where they were.
There were interesting developments that were learned this week, the first which will be quite interesting when it comes out in court. It seems that there is a motion to suppress the statements that were given to the Las Vegas Detectives when they went to question Craig & Kelly after the were arrested in Massachusetts. It is rumored that these detectives secretly tape recorded the conversations that they were having, and didn't tell Craig or Kelly until towards the end. Now, is this legal, or is this a case of the police officers not following the law. Either way, it may be that all of that may be thrown out.
As for bail, the attorneys will argue that there is no reason not to give bail to both Craig and Kelly as they are not a flight risk (unlawful flight charge?), and didn't know of the arrest warrant when they left Nevada (it wasn't issued).
These attorneys that they have seem like some of the best in handling these type of cases. Steven Boozang is from Boston, and has handled a number of high profile cases, while Richard Schonfeld is from Las Vegas, and is considered one of the top lawyers there. Kelly's lawyer Tim Pitaro, has been rumored to be a very focused and dedicated attorney.
They are scheduled to be in court around 1pm. Let's see what comes out then!