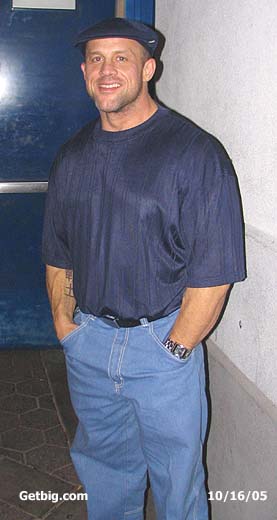 On Monday, December 12th, Craig Titus and I had a conversation on the phone regarding what he was up too. He was pretty upbeat, talking about his latest venture regarding a new organization called the WPI (Women's Physique International), and how they had joined forces with a European group called the WPI (Women's Physique International). He said that we would talk later on in the week regarding updates on Kelly & himself. That never happened.
Two days later, as we found out now, something happened. What happened we don't know for sure at the time, but the lives of Craig Titus, Kelly Ryan, their friends, and the sport of bodybuilding would be changed forever.
There was no indication of anything wrong until Monday morning, December 19th, when I received an email asking about Craig Titus and if he was in trouble in the law. Something about murder? Nah, it couldn't be. Rumors like this come around on the boards and via emails all the time. Still, phone calls to Craig were not answered, not at home, not on his cell phone, not anywhere.
By Monday night, intense speculation grew. What was going on? Is this rumor true? Behind the scenes, whispers and talk was going around the circles like wildfire. Get a hold of Craig & Kelly. Let's dispel this rumor quickly. But nothing came. No confirmation or denying the rumor Monday night. Only more people piping in saying that through their sources, this rumor has some merit, that Craig & Kelly were involved in something.
Apparently, a news report said that on Wednesday, December 14th, on 4:41am, a trucker spotted a fire coming from a 2003 Jaguar. After the firefighters came and the blaze was gone, they noticed human remains in the trunk. They found the license plate near the scene, and determined that it was not reported stolen.
But when rumors of the police contacting various friends of Craig Titus, we knew this may be very serious. When we heard that Kelly Ryan had a cherry-red Jaguar, the story became more strange. What was going on? When people who know Craig & Kelly started to post on the bulletin boards that something strange is going on, we knew we had to get some facts.
By Tuesday, the rumors were running rampant on the boards. And nobody was denying them - not behind the scenes where many people were trying to get concrete proof either confirming or denying the rumor. Speculation kept growing and growing. Hundreds of ideas on what happened. People swore to me that Craig & Kelly were in jail - they knew that from a fellow bondsperson, being question on this. But no proof on anything yet.
Then on Wednesday, December 21st, the first concrete proof - an official document from the Las Vegas Police, detailing that there is a no bail arrest warrant for Craig Titus for murder and third degree arson, and there is a no bail arrest warrant for Kelly Ryan for accessory to murder and third degree arson. A third suspect, Anthony Gross, was already in custody.
Boom - many of us were stunned. Just stunned. And what of the burned out body in the car. All we know that it was a 28 year old girl who supposedly lived with Craig & Kelly. No name has been given out yet by the police as of now.
And what of these rumors. Here is a sample of what is being said on the boards, with no proof at all.
That on Tuesday night, Craig & Kelly went parting with their live in 28 year old girlfriend, and she OD'd on a mixture of Xstacy and Cocaine and Alcohol. Craig & Kelly panicked and called Anthony Gross to get rid of the car and the girl. Not thinking correctly.

That the 28 year old live in girl was using Kelly's credit cards and pretending to be her, which enraged Craig, and he hit her. Then they dumped the body and the car.

That the 28 year old live in girl was partying and fell down the stairs, freaking out everyone, including Anthony, who took care of the situation.

That someone purchased liquid explosives on a Titus credit card, which might have been the fuel that set the Jaguar on fire.
In Craig and Kelly's defense, none of these rumors are facts. We don't know how or in what way they were involved, and in my book, they are innocent until proven guilty. Speaking for myself, Craig & Kelly have always been warm and friendly to me, and I can't think of them getting involved in this unless it was accidental. What happened - I don't know, but hopefully soon, the truth will come out.

But as of right now, no matter what we think, Craig & Kelly have arrest warrants out for them, and are fugitives from the law. They need to come forward and face the charges. Many of the news television networks are airing this story in front of their house, their gym, and from the burned out car in the desert.

In speaking with a lot of people today, although there are many people who think Craig is capable of these allegations, there are just as many people and fans that want Craig to know that they are supporting him and Kelly, and do care about them. Many of them are just horrified and stunned on the turn of events.

Obviously, more to come on this sad event.