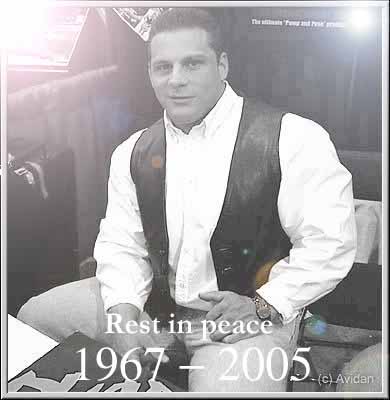 These last few weeks have been sort of different for many of us in the bodybuilding world. For once, I can't remember a time when so many have passed on in such a short time span. Then, to hear that Paul DeMayo, nicknamed Quadzilla, died of an apparant drug overdose on June 2 in Boston, was just shocking. We knew him from the pictures and the stories of Paul's rise to fame until he reached the pro ranks in 1994, and stopped competing in 1995. We didn't know the problems he was having in his personal life. And sadly, now we do.

---

This was published in the Boston Globe on June 5, 2005:

Paul E. DeMayo: Of Medford, formerly of Malden, June 2, 2005 suddenly at age 37. Beloved son of Paul & Marion (Drane) DeMayo. Loving brother of Michael DeMayo & his wife Heidi of Peabody, Donald DeMayo & his wife Dina of Stow and Diane DeMayo of Saugus. Cherished uncle of William, Eric & Avrie DeMayo.

Funeral will be held from the A.J. Spadafora Funeral Home, 865 Main St., MALDEN on Tuesday 6/7 at 8:00 AM, followed by a Mass of Christian Burial in the Immaculate Conception Church, 600 Pleasant St. Malden at 9:00 AM. Relatives and friends are invited to attend. Visiting hours are Monday 2-8 PM. Interment Woodlawn Cemetery, Everett. Spadafora Funeral Home 781-324-8680

---

Paul's Contest History includes the 1988 NPC Junior USA HeavyWeight 7th; 1989 NPC Junior Nationals HeavyWeight 4th; 1990 NPC Junior Nationals HeavyWeight 3rd; 1991 NPC Junior Nationals Heavyweight 1st & Overall Winner; 1991 NPC HeavyWeight 3rd; 1992 NPC Nationals HeavyWeight 4th; 1993 NPC USA Championships HeavyWeight 3rd; 1994 NPC Nationals Heavyweight 1st & Overall Winner; 1994 IFBB Mr. Olympia 12th; 1995 IFBB Grand Prix England 10th; 1995 IFBB Grand Prix Germany 9th; 1995 Grand Prix Spain 9th

---

Some discussion on the boards regarding Paul DeMayo in the days following his passing...
I just heard the news. Please tell me that this isn't real. I can't beleive that Paul has died. This has got to be a rumor. The guy is only 37 years old!

Paul died of a drug overdose, most likely heroin. He was selling a lot of this trophies and stuff for drug money. Sigh, you have to realize that back in the 90's there was a rampant amount of nubain being used. A lot of pro bodybuilders took it because they thought it could help them train longer and harder but they were really trying to justify it. Some people simply never recovered from it like DeMayo and Denise Rutkowski professionally. DeMayo was especially hit hard because at the same time he had a spat with his wife and ended up in jail. Even the strongest people can't recover from that type of bad karma. One thing people need to realize is that everyone has their demons to battle in life and some are just too hard to overcome.

You can't blame Nubain for destroying a person's life. The addictive personality was already there, only the drug itself was the tool that was used for the behaviour. I don't think "bad karma" has anything to do with it. People can overcome bad circumstances. Tough times don't last, Tough people do...

Good call on that one. So often, people do blame the drug for their own weakness. But the ability to either get addicted, or just walk away from a drug, lies within us.

Nubain and heroin has physically addictive properties. It requires more than just mental prowness to truely overcome these drugs. Its easy to say simply to stop cold turkey but that's not the way it works unfortunately.

Of course it's not "easy", but someone with an addictive personality would know early on that they've got the potential for addiction. That said, they would know to stay away from drugs that offer that potential for abuse.

I have to agree with the guys here,I know people who were taking Nubain and even though they enjoyed it. They knew when enough was enough and stopped instantly. I also know plenty of guys who got to the point of paying £100 a shot, thats how bad they needed it. I still to this day remember a conversation with one of the top amateurs in the UK and how he said that his forearms are covered in bruises, so he started injecting into the veins in his feet, then his neck.!! He also told about how a group of guys (top amateurs) would drive round in the back of a transit van injecting each other on their way to dropping off "supplies". This isn`t just hearsay either, as i have spoken to the group of people and gotten the same story.

According to a source, he was apparently too far into recreational drugs and such, and this was the cause of his untimely and very unfortunate downfall. So it has been confirmed that Paul has passed on.And the Iron Game loses another brother....and a pivotal one at that.

Mike Christian once observed that once you get used to jabbing a steroid needle in your body, it's not such a big deal to jab yourself with needles full of other substances as well

Just got a confirmation on this as well. It's totally true & also very sad. Apparently in the last few days Paul was calling up old friends in the sport to ask if they could loan him some money. Most didn't just because they knew the problems he was having. He wass telling those he called that he was working at the Gold's Gym in Boston but the people at Gold's said he was let go a few months ago according to a couple of people who tried to call him back there. You gotta wonder how bad his last few days were? It is very tragic indeed. Sending condolances to his family.

Oh no! What horrible news. I once saw Paul in Porter Square just outside Boston several years ago. He was walking with a cutie on his arm and wearing jean shorts. I pointed him out to my friend and said, "check out his calves." She recoiled in horror an observed that if his calves were that big the rest of him must be "gross." I smiled and said to myself, Paul ya done good. Then she turned to me and asked "do you think that's sexy?" My smile said it all. "Well, at least we'll never fight over the same man" she said, and we laughed all the way to the restaurant. May he rest in peace.

Sad news, whatever the reason(s) for his untimely death. At one time I thought he would become one of the Great Ones. R.I.P Paul DeMayo

I am here to share the sad news that Paul DeMayo died here in Massachusetts. An autopsy will be performed, but it is most likely that he passed away from a heroin overdose. Have his parents in your thought. They are nice people.

Bye my friend, your demons are gone, may you rest in peace!

Nobody could help him with his demons, help him discover the will to overcome his pain. Was it bodybuilding? Was it Paul? Who can explain why or how the chips fall?

RIP Quadzilla!

David Lee Roth once said something like "I'm not this way because I'm in a rock band. I'm in a rock band because I'm this way." I think the same could be said of scores of rock stars, movie stars, pro athletes and even bodybuilding stars. They rise to the top of their chosen career because of their somewhat "extreme" personality traits, but that can also be a double-edged sword as it was with Paul.

Wanted to say RIP Paul, you used to be a great bodybuilder. It is a shame how it ended. Once again RIP

Yet another terrible, terrible, untimely death and tragic loss to the BB community!!! Paul DeMayo was a true, veteran, warror-of-the-iron-game! God bless him, and condolences to his family and friends!! R.I.P.!!! Maybe sometime, somewhere, the media will shine a bright light into "Bodybuilding's Dirty Little Secret" to let everyone know the REAL TRUTH, and help head-off the legions of aspiring kids, duped by the lying, cover-up, BB mags./game, to following the deadly short-cut drug-route to ""BB fame and glory"! As the great former competitive pro. BB'er Mike Christian sadly, and remorsefully, pointed out (words to the effect)..."once you get in the habit of routinely sticking needles into you arm...there is very little difference between whether its BB drugs or recreational drugs"!! STOP THE INSANITY!!!

Sorry to hear of Paul's passing, but his IFBB pro career consisted of four contests in 1995 with an average placing of 10th, hardly fiscal fodder for himself, let alone anyone else.

RIP quadzilla... wtf.. he ws young and i always thought he'd make a comeback at some point... this is a shock...

If you've ever been addicted to opiates, you know it;s a disease of denial. It's alot easier to get on the bus then to get off. Paul did 2 years in Walpole state prison for shooting at his girlfriend and possession of percodan. If 2 years behind bars won't keep you from going back than he needed more than rehab. He needed in house professionall help and that's not easy for a junkie to ask for, not to mention the cost and if he even had health insurance. Tragic ending, but usually the only one.

I think Paul needed an intervention, sad that nobody cared enough about him to do it.

He should have been one of the greatests...what a waste of young life. R.I

RIP...Condolences to his family

Sometimes, people around the person who has this addiction usually most of the time don't even know about it to do something about it.

It has been confirmed from reliable sources that Paul died of a heroin overdose. It was one of the topic of conversations at the Toronto Pro Athletes Meeting. How sad...

I never really knew Paul that well -- but a few members here do back from the MET-Rx days. They may be able to comment more at some point. However, from what I know or have been told Paul developed an addiction to pain killers back in his career due to severe knee pain. Many people who have chronic pain which he "may" have had simply turn to H since it can be "easier" to get. Obviously, opiates can be a HUGE problem for some people and it appears that Paul was one of these. People die from heroin overdoses everyday -- but it always hits home when it is one that we can relate to. I am hopeful that he is finally at peace.

His last few months knowing what he was currently doing to himself compared to what he used to be must have been heartbreaking

Sad day indeed. He joins the ranks of many millions of others whom have shared the same fate of drug overdose thoughout the world ever since the dawn of man. Heroin is really bad stuff, once the user is hooked it is near impossible to stop. I have lost a good friend to this drug, I cannot think of how much the dealers in such a trade should be dealt with in an "eye for an eye" manner.I do not like the off comments by some of you dolts here, like "oh another druggie goes down" or ones like this. Paul was a human being with faults, no doubt we all have them. The pro bodybuilding world is one of drugs, nothing new here. Paul was a mothers son, and a son to a father. Please have some respect for him as well as his family and friends. For what ever reason he became hooked on such a drug I am sure this is not the way he intended. Let us remember him for his great "Quads" and what he did for the sport, not for how he fell. His death/demise if anything should only serve as a lesson in life for others that seek asylum with the demons found in drugs. My thoughts to his family and friends.

Paul Demayo was one of the greatest bodybuilders of all time. Rest in Peace. Much Respect.

Paul had some mental problems to go along with his physical addictions. I hung out with him several times and although he seemed like a nice guy, you could tell there was a lot of personal demons and inner anger happening. He had his troubles with the law and he never accepted responsibility for his actions. He always felt like he had been victimized. And that always stayed with him. Mentally, he was never able to turn the corner and take control of his life after those events. But this is a bodybuilding board, and Paul was an incredible bodybuilder. He had the best legs since Tom Platz, and no one since Paul has acheived that development except for maybe Branch Warren. He was a teenage sensation and he quickly ascended to the pro ranks. Once a pro, he had just begun to pay his dues when politics essentially forced him to compete at the Olympia before he was ready. He handled himself professionally at the O and was always generous to his fans. Despite his legal troubles, Paul proved he was a bodybuilder at heart by maintaining awesome size and condition over the next 10 years despite never entering another pro contest.We should remember Paul as an incredibly gifted and hardworking bodybuilder who achieved greatness early and met an early end.

While Paul's death is tragic, his physique--like Arnold's or Lou's-- inspired hundreds of thousands of kids to make it into the gym to improve their self image.

I knew the old Paul, from the late 80's and early 90's. A lot of us girls and guys would travel together to see his shows, Celine, Craig (Licker), Debbie, Julian, me and more. After he started with Nubain, he became someone that most of us here from his old click didn't know.

Glad to see someone here that knows the pain Paul was feeling. I also am in recovery and there were lawyers, judges, doctors, etc in treatment when I was there. I went from smoking grass to lortabs to oxycodone and so on. Its a b***h to kick pain drugs because you get so sick!!! You cant stay comfortable or even sleep for several days. Eventually its jails, institutions, or death. This is tragic. It should be handled with respect and remorse for his family. R.I.P.- God Bless

Tthis is a real bummer. Paul was an amazing body builder with insane genetics and a great sense of humor. It's really hard to believe that his life has come to an end. May he rest in peace.

RIP bro... One of the sickest pair of legs ever!

You can't help somebody that does not want help....not saying that he did not want help, but the first step to recovery is admitting you have a problem.....once you admit it to yourself, you can begin the healing....

The last time I saw Paul, I was still with Cormier and I saw him at some show in Cali. I can't even remember which one. He didn't hang with many of his old friends here in Boston, he had new friends... If Paul did ever ask me for help, I would... I wish I did... Sadly, it's all over and I just hope that we meet again someday...his heart is now healed.

I worked with Paul just a matter of months ago at the Gold's Gym, Lansdown St., Boston, MA location, and have to say, he was one hell of a guy. He was a kid at heart. Always getting us to laugh. He was a practical jokester, always pulling pranks and great at denying any involvement. He didn't talk a tremendous amount about his bodybuilding past, whether that be training, eating, or drugs. To be honest with you all, I think it bummed him out to think of what he once had, compared to what he had at the time. The whole time I worked with him, he never touched a weight, EXCEPT, for doing a set on a donkey calve raise machine! I got a kick out of that! Paul was let go due to either being under the influence and/or getting caught using. It's unfortunate, because according to him, he was trying to keep on the straight and narrow because of the girlfriend he had in his life that he cheerished. He didn't want to risk that for anything. Unfortunatley though, that ended up failing, which ultimately led to him using again. Any how, Paul was a great guy and I was proud to know him for the short period of time that I did. I got along with him great and enjoyed our shifts together quite a bit so. To his family and close friends, I'm terribly sorry for your loss and I hope with time, the pain your feeling eases. Rest in peace Paul.

I used to occasionally see him hanging out across the street from the restaurant I worked at on Newbury Street. He would just hang out and people watch, he was pretty cool to everyone, no attitude and friendly. I never would have guessed he was a heroin addict.

I saw him guest pose at the NJ State/Suburban in either 1996 or '97. Shawn Ray and Derrick Whitsett were guests as well. I had food poisoning from something and wanted to leave but stuck around to see everyone. I'm glad I did. May he rest in peace.

My condolences to Paul's family.

Drug addictions are hard to overcome and bodybuilders just like average people can fall victim to it, I am not here to judge the man, only to say rip paul, sad day in bodybuilding

I've had a few friends who were junkies. Some are dead now and some have pulled through. The only way you can get through it is with the right help. you can't do it on your own. The only ones that have pulled through it WANTED it and got the help that is needed, and are still continuing with the help and also helping other people.

I cant beleve that a few of you have talked shit on this thread about Paul being a drug addict, I spit in your faces! Your hateful cowards, Paul Demayo was a good guy and a human being.Who cares how he died or what he took drug wise, he lost his life at a young age, may god keep his soul and may Paul Demayo finally find peace. So what he was arrested? Does that mean he was a bad guy or deserved to die? Dont dare judge anyone unless you are ready to be judge yourself, let the man rest in peace, all of you STOP BRINGING UP HIS DIRT.No one has the right to judge him.

I'm pretty sure he pulled out a gun in front of his wife and fired it into the air. I'm not saying he deserves to be bashed, but just countering your claim that he was a nice guy.

You should read the story about him being arrested. It was a total setup. I'm sure he was a nice guy though....

As the family prepares for the wake today, I am reviewing your posts. Thanks to those who express sympathy. For those who shun Paul for dying of an overdose, I can agree with you; however, my opinions of drugs will not return my cousin, or my Aunt's oldest son. I was shocked myself when I received the call about Paul being dead.. I'm still not believing it. I am so sad and at the same time being mad as heck because he knew better. We are all proud of Paul's accomplishments. I haven't seen him since our Grandmother's funeral, but I'll always remember his wicked smile. Paul's demons got a hold of him in his darkest hour, but we can only help those who help ourselves.

It's a tragedy when a life is ended premature. Rest in peace Paul DeMayo.

alot of you shunning paul on here for his demons ie heroin fail to realize something. I would say roughly half the people I have known who got into heroin were everyday so called normal people who were orginally prescribed painkillers due to injury/pain/post surgery/accident etc and after getting hooked on prescribed pain meds gradually gravitated to different pain meds prescribed or however they could get it. Basically what I am trying to say is anyone can get hooked on these narcotics as easily as falling down on the ice and getting prescribed, some of you have no clue. I dont know Paul's situation but fact of the matter is have a little respect for his family and maybe be a little more aware of your own probems if they are similar (remember I said it often starts with one legal prescription) or those around you. Just food for thought, I used to shake my head when I was 18-20 because of all the friends I knew who did drugs, I never respected or understood what they did, in fact in the back of my mind I said the same things some of you said, Well, I became a full fledged addict myself years later. So careful what you say when it comes to shit like this, it could happen to you or someone you care about

A little info. Most people don't know when someone's addicted when their using. It's when their out and going through withdrawal. That's when the ugly demon sticks his head out. I've known many dudes who where addicted to painkillers, heroine, methadone ect... who you would never know. They have jobs, houses, families and take care of things, as long as they are "good", a word junkies use to describe if they have dope or "not so good" meaning their out. The point is that even his family couldn't have known if he wanted to hide it and junkies are experts at doing what ever it takes to hide it from friends and loved ones. Only when it gets completely blown out of controll does an addict usually seek help and by than it's so full blown, getting help becomes so frustrating because only professionals relay know how sick you are and not many junkies can sit through an intake and insurance questions that they just return to the dope. They feel it's easier than getting the help they need. That's the sad world of an addict trying to clean up.

It's a damn shame that Paul died. The fact that he was 37 is even worse. One of my most favorite musicians died because of an overdose............Jimi Hendrix. It's sad because people like Jimi or even Paul had some talent that the majority of us wish we had.......& their lives came to a crashing halt. R.I.P. Paul

Damn. 37 is so young.

Why didn't nobody gave the man a helping hand?

What kind of help are you talking about? Maybe kidnapping him and putting him on an desert island to detox might work but that isn't realistic. The addict has to want to go clean himself. There isn't much anyone can do.

A lot of people look at this situation, and cannot understand how this type thing can happen. It can happen very easily to the best of people, when they lose the very important things in life. For one, not having a supportive family can be devastating, and you never know how it really feels, and how much you lean on other people, until they are gone. Secondly, a mans career is so important to mental health, in that it gives you a sense of accomplishment and self worth. A career is vital to being able to see a light at the end of the tunnel. If somehow the light is shut off permanently, it can be very devastating. Third, drug use, especially opiates, allows the user to get a break from the mental torture they are experiencing, temporarily. This temporary break really feels good, after they have been in a negative state for an extended period of time. This is why it is so easy for them to get hooked. There is a real lesson here for everyone who is witnessing this tragedy. Never underestimate the value of real friends, family, and work ethic, because without them, it can easily seem that there isn't much left to live for. A man left with nothing but time to think, can destroy him mentally, in a short period of time. Obviously, with his past accomplishments, Paul was a very strong willed and driven person, but once he lost some very important things he felt he could never get back, mentally he just couldn't accept everything that had been forever changed. Life is some really serious shit, and this is a lesson in life for everyone who is touched by it. RIP Paul.

So how can this happen. Well, it does. To family, to friends. And while you know they are using, it is very hard and very time consuming to check on them every day. And what do you do. You can tell them you know they are using, they just deny it, or they just say it is under control, but you know that it isnt. You can check up on someone sometimes, but not every minute or every day. Everyone has their own lives to lead, and while you can lead them to the right track or help them, many times, they dont want help. If you ever had someone you know that was using, you would know how hard it is to help them out, and effort, and money. Working, having your own family to worry about, and friend, limits your time on others.

The greater Boston area has a huge herion problem. I have had 2 friend die (both not even 22 years old) and contless people i knew growing up are in rehab. I am originally from the south shore just after South Boston and let me tell you this is the worst thing to happen to this city in a long time. Damn sad. RIP

This is amazing. All of these pro bodybuilders are passing away, and the IFBB has yet to acknowledge any of them. Paul DeMoya had some of the best quads I have ever seen on a bodybuilder, and I wish that someone could of helped me before it was too late.