February 1998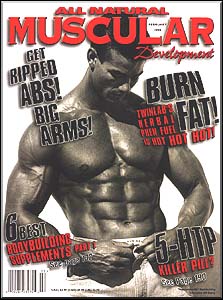 The look of natural bodybuilding and less on the hardcore look is what Muscular Development stands for. With everything geared towards the natural look, it continues to attack steroids, drugs, etc. On the cover is natural for life champion bodybuilder Bill Davey.
Muscular Development, owned by Twinlab, is another serious bodybuilder magazine that concentrates on natural bodybuilding, but also covers fitness and health related items. They pride themselves on giving its readers extensive coverage on the cutting edge of training, diet and nutrition articles. It also has great pictures of bodybuilders, and makes for enjoyable reading.
---
February 1998 Table of Contents
Volume 35, Number 2
---
Natural Training
AS I SEE IT
A Call to Arms: Our Sport is Dying
ARM TRAINING:
The secrets of the stars. For extraordinary insight into developing impressive biceps and triceps.
HEAVY DUTY Q&A
Hormonally correct
ASK THE LEGEND: STEVE REEVES Q&A
How to define the classic physique
MIDSECTION MAGNIFICENCE:
Bill Davey's one-on-one abs training manual. Find out how to get the best abs through drug free bodybuilding.
NATURAL BODYBUILDING DIGEST
Are the top natural athletes really drug free.
LABRADA'S OUTLOOK
Once a bodybuilder, always a bodybuilder!
THINKING BIG
The attitude of gratitude
ASK THE EXPERTS
Aerobic training and maximal heart rate.

Health & Fitness
BEST OF HEALTH
Stop Aging ... Part One

Nutrition
EAT TO WIN
Permanent weight loss: Why people succeed.

Research
HOT BREAKING RESEARCH
Your complete digest to the latest in Fitness, Health, Nutrition
STRENGTH & CONDITIONING
Impact of post exercise massage therapy ... Effect of grip width ... Pre-season training ... Resistance training and flexibility ...

Supplementation
STATE OF THE ART
Glutamine supports immune function ... Soybean protein lowers cholesterol ... Thumbs up on Creatine ... How to win the battle of the Bulge ...
DRUGS IN SPORTS Q&A
Doped or Duped?
FAT NEWS
Fenflramine and Redux pulled from the market.
DIETARY SUPPLEMENT REVIEW
Chrysin (Flavone-X): Testosterone booster?
ANABOLIC REVIEW
Does creatine increase testosterone levels ... Steroids and female bodypart patterns ... Violent behavior: Is it a mineral imbalance? ... Obesity and Amino Acid uptake ...

Features
AFTER THE PHEN-FEN FIASCO
Scrambling to find a safe alternative.
GUESS WHO'S GIVING BODYBUILDING A BAD NAME?
Is it anybody we know?
THE CITRUS AURANTIUM STORY
The best Ma Huang alternative for fat loss and energy.
CYNTHIA HILL: QUEEN OF THE HILL
Meet the 1997 Ms. Galaxy! (Wow!)
BEST BODYBUILDING SUPPLEMENTS
Part One. A major supplement review by one of the field's acknowledged experts.
DIETARY FAT:
THE GOOD, THE BAD AND THE UGLY
For athletes trying to maximize performance, consumption of fat is just as important as protein and carbohydrates.
5-HTP - KILLER PILL?
If you think the Redux problem couldn't happen again, think twice

Entertainment
MUSCLE MAIL
Terrific tennisons ... Drugs in the IFBB ... Skip: Natural as in 'Real'
ON THE WEB
Now fortified with sex bytes and diet bytes
CYBER-BUZZ
Celebrity scoop! ... Marv Albert, Arnold, Frank Gifford and more!
MENTZER SPEAKS
Get hyper!
ROMANO'S RAGE PAGE
Itís time to tell a few people off!
CLASSIFIEDS
NEW PRODUCTS
MAX REP
Psycho Catnip Passyhunt: The Search for Squatsky